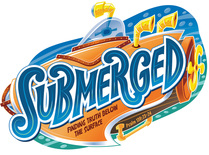 June 13th-17th, from 9am till noon, for kids 4 year - 6th grade.
This summer, take your kids on an adventure like no other, deep within the mysterious sea. As kids submerge themselves in God's Word, they will discover that Jesus didn't just see what's on the outside of people. He looked deep down on the inside. So grab your goggles, step into your flippers, and dive in to find truth below the surface!
Click here to register online now!
Click on the file below for the VBS bus route schedule.
---
---
June 27-July 1, 9am-Noon ~ New Children's Day Camp!
Did you know God's love is unconditional and that He has a plan for you? God is everywhere and He always keeps His promises too—and He never fails! Join us for fun games, activities, snacks, and much more as we learn about who God is! Join us for ZIP Day camp! Click the image below (according to your child's age/grade) to register them today!



Click on the file below for the bus route schedule for ZIP...

---
Come and Worship With Us!

We offer many areas of Bible Study on Wednesday Evenings, Sunday AM & PM, and two styles of Sunday Worship Services

Sunday Worship Service Times:
8:30AM - Blended Service
9:45 AM - Bible Study
11:00AM - Contemporary Service
11:00AM - Children's Worship (1st - 5th)
11:00AM - Preschool & Kindergarten Worship

The nursery is available during both services and during all class hours.

Sunday Morning Bible Study:
Pete Ditmer (A-208) "Power of Testimony"
Robin Stuart/Dan McQuay (A- 202) Explore the Bible Series
Terry Tacon (A- 206) Explore the Bible Series
Todd Zelenka (A-204) Explore the Bible Series
Mike Hulsey (A- 201) "I Corinthians""
College&Career: (A- 203) "Find Your Path of Growth"
Steve Herald (Senior Adults) (W-1) Life Venture Series
The Ladies' Class (A-205)

Wednesday Schedule:
5:00 pm – BEMA – Weight Loss Bible Study
5:00 pm – Church-Wide Dinner (Until May 25th)
6:00 pm -
Adult Bible Study – Submerged (April 26th thru May 25th) – A-202
Ladies Only Bible Study – "Teach Me Your Word: Learning Methods to Study the Bible" – A-206
Men's Class – John O'Leary: "Be the Light!"








Bro. Mike Hulsey ~ Pastor: mike@farleycc.org
Bro. Matt Bonnette ~ Minister of Youth and Missions: matt@farleycc.org
Bro. Seth Dunnington ~ Minister of Music and Adult Education: seth@farleycc.org
Donna Callaway ~ Church Administrator: donna@farleycc.org
Janie Wheeler ~ Publications Secretary: janie@farleycc.org
Michelle Bloodworth ~ Weekday Education Director: michelle@farleycc.org
Church Phone Numbers:
Main office: 256-880-3878
Weekday Education: 256-880-3359
Fax: 256-213-4852